الاصدار الحالي
Healthcare Guide 2021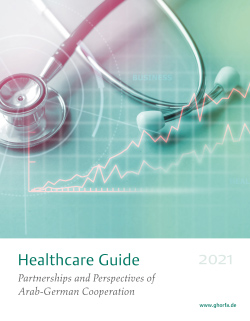 The The highly innovative health industry in Germany is well known as a major hub for medical technology, medical treatment, and the pharma industry. The country's healthcare exports exceeded over EUR 126 billion, around 12 percent of its GDP.
The Covid-19 pandemic is currently challenging entire healthcare sectors across the world. Efficient and modern health systems are essential to deal with such crises. In the Arab world, the expansion of the health sector and the corresponding investment in infrastructure has been driven forward for many years. Therefore, German know-how and the transfer of knowledge, experience and input of German companies and institutions in the region is absolutely in demand, especially now during the pandemic.
Content
To promote a sustainable Arab-German partnership in the healthcare sector, the Ghorfa Arab-German Chamber of Commerce and Industry publishes the Healthcare Guide right on time for the 14th Arab-German Health Forum (September 14th – 15th, 2021). The editorial articles inform about Arab-German cooperation projects that are planned or are already successfully accomplished. With its excellent reputation, state-of-the-art technology and as a top destination for medical tourism, Germany offers many investment opportunities and is a reliable partner for healthcare projects in the Arab world.
Details
Title: Healthcare Guide – Partnerships and Perspectives of Arab-German Cooperation 2021
Publisher: Ghorfa Arab-German Chamber of Industry and Commerce
Date of publication: September 2021
Extent: 62 pages
Order
You can order the publication free of charge (+ delivery cost) by sending an e-mail to ghorfa(at)ghorfa.de.